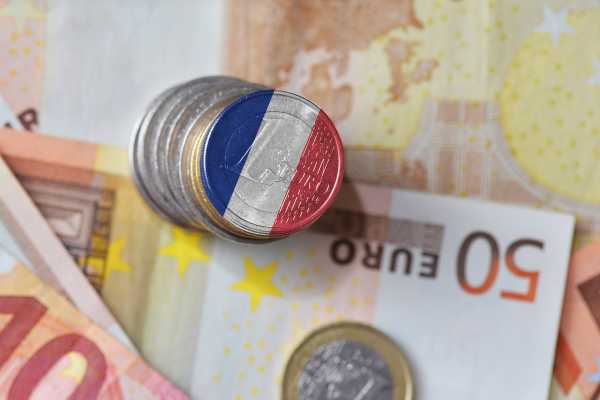 Public spending pressures and a divided legislature jeopardize medium-term fiscal consolidation
France is unlikely to achieve its objectives of reducing public debt in 2026 and reducing the budget deficit below 3% of GDP by 2027 (Figure 1) as President Emmanuel Macron's second term is about to end. This reflects rising interest payments, emergency government spending introduced in response to deteriorating economic conditions related to Russia's war in Ukraine and structural pressures on medium-term spending.
President Macron enjoys broad political support for the implementation of emergency measures to protect households and businesses from the economic slowdown and rising inflation, and to accelerate investment in energy infrastructure and military. However, political disagreement persists over his plans for reinvestment in the French nuclear sector and pension reform.
Figure 1. Moderate growth and sustained deficits pose a challenge for France's deleveraging
Source: Ministry of Economy, Finance and Recovery of France, Scope Ratings – Follow-up report of the French Republic as of July 22, 2022
The government will find it more difficult to muster a majority of MPs to support supply-side reform
With the approval of the purchasing power package by the National Assembly on July 22, the presidential coalition known as "Ensemble" passed its first test after having lost its absolute majority in the legislative elections of June.
However, the government will find it more difficult to muster a majority of MPs supporting supply-oriented measures, anchoring productivity and competitiveness. Even so, the ruling coalition could find common ground with the centre-right – Les Républicains – to contain public spending.
Purchasing power package measures include an increase in basic retirement and disability pensions by 4% from July 1, 2022 and a cap on increases in housing rents from an index level 3.5% between July 2022 and June 2023. The law also creates a framework for the temporary restarting of a coal-fired power plant and allows an increase in the greenhouse gas emission ceilings in the event of "breach of the security of electricity supply". The purchasing power package costs 20 billion euros (about 1% of GDP).
Challenge to offset additional spending with fiscal tightening elsewhere
The challenge for the government is that the scope to offset some of this additional spending with tighter budgeting elsewhere appears narrow despite the introduction of a strengthened governance framework for public finances in December 2021 which aims to strengthen multi-annual management and budgetary responsibility.
France has a poor record of fiscal consolidation over the past 40 years, with persistent budget deficits. Rising interest rates could further hamper the government's plans to start reducing public debt by 2026. The government's interest burden stands at 1.2% of GDP and will reach around 2.0 % of GDP in the medium term.
At the same time, longer-term investments are on the rise in response to Russia's growing threat to European security. The government is taking over full ownership of Electricité de France SA at an estimated cost of €10 billion, with the utility at the heart of France's proposed €50 billion nuclear energy investment programme.
The government is also considering an increase in the defense budget by 2030 beyond a current target of 50 billion euros by 2025 – around 2% of GDP – from 36 billion euros in 2019.
For an overview of all of today's economic events, check out our economic calendar.
Thomas Gillet is Associate Director of Sovereign and Public Sector Ratings at Scope Ratings GmbH.